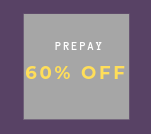 60% Off 8oz Eczema Cream. Prepay for 3 months. Receive 1 jar per month. FREE shipping.
You help us plan our Winter. We'll help you save!
Prepaid orders help us plan our production schedule which makes us MUCH more efficient! That saves lots of time & you know that time is money!
So we're happy to offer you a discount in exchange for more predictability & less waste since our products are handmade FRESH year-round!
It's been 11 months since we offered this 60% off prepaid option to our eczema cream customers: 
(3) 8oz jars: (1 jar shipped every month for 3 months) @60% off =$20 per jar 
*NOTE: If you prefer 16oz instead of 8oz just add 2 of these prepay packages to your cart & we will ship you (2) 8oz jars each month. 
How prepay works: 
-Shipping is always FREE!

-Your first jar ships 1 business day from your order date. The next shipment is 1 month later and so on for a total of 3 months (3 total shipments). 
-You are billed up front once every 3 months. The price will not increase. You're locked in at your low price!
-You will receive one jar of 8oz eczema cream per month.
-You may cancel any time.
-Tracking & shipment info will be automatically emailed every month to the shipping address on your order (just like any previous order).
-You may log in to Kjnaturals.com at any time to see your upcoming shipments, track orders or change your shipping address. 
-Shelf life = 6 months. (It will last for a year but we REALLY want your skin to receive products that are FRESH- just like your food!) 
-No, you don't have to suffer from eczema to use this cream. I don't have eczema but I use the cream daily in place of lotion). It works well for all ages. 
FYI: We mix fresh batches of this cream every week all year long. We don't have a warehouse and we don't want one! That means the cream you receive was made the week before it was shipped to you.